Home Remodeling Contractor in Erie, PA
Home remodeling can be one of the most useful, satisfying things you do for your home. Whether it is adding a room or changing how an existing space looks by painting it a new color, there are many different ways to help refresh your home.
Braendel Home Remodeling specializes in both interior and exterior services. We do the kitchen, bathroom, and basement remodeling, as well as complete home additions, and enhancements to your outdoor living spaces without the use of subcontractors. Our fine home remodeling work can be seen all around town in many residential homes. As always, we do the job right at a reasonable price every time. Of course, our expert painters and wallpaper crew will add all the final touches.
Reasons to consider remodeling your home
Home remodeling can be one of the most rewarding things you do for your home. Whether it is adding a room or changing how an existing space looks by painting it a new color, there are many different ways to help refresh your home. If you're ready to renovate your house, call Braendel Home Remodeling today.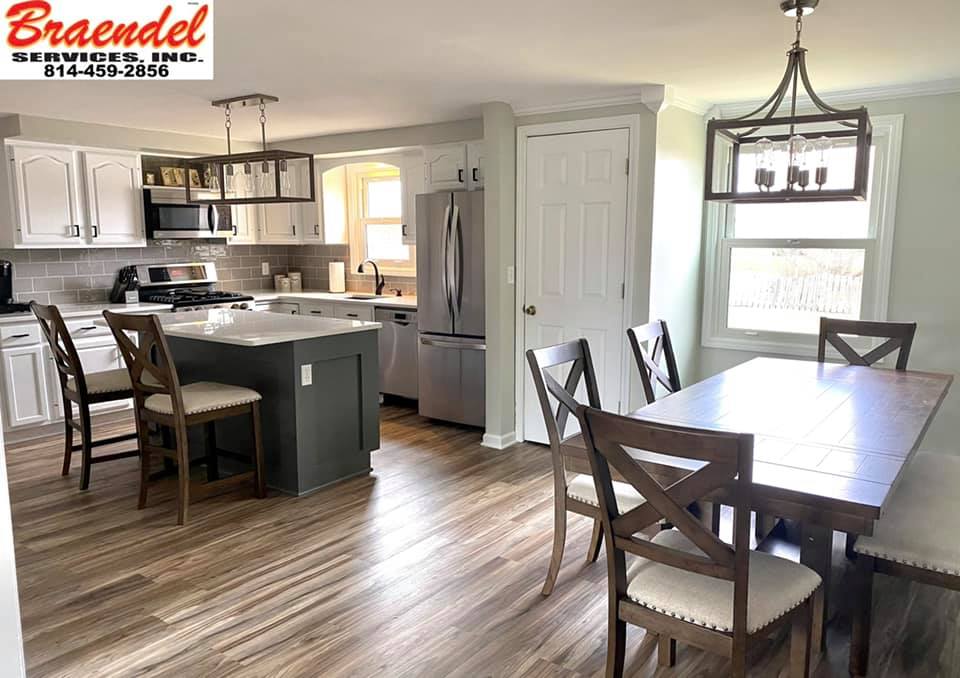 Whether you're looking to add an extra bedroom or spice up how your living room looks with new paint and new flooring, home remodeling is fun for you and exciting for your family. With Braendel Home Remodeling on board, you can rest easy knowing that everything will be done by one company at a fair price.
When remodeling, you're never just building for today. You need to think about what will still be around tomorrow - and the day after that. Besides our ability to take on any size of project or house, Braendel Home Remodeling has an eye for detail and understands how best to match your needs with our experience. Whether it's adding a memory-maker like a living room or adding extra space out back that works with your property's unique topography, we go the distance here at Braendel Home Remodeling because though renovations can lead you down some unexpected paths (and create some new ones), they're worth it if you plan ahead and consult with us early on in the process.
Frequently Asked Questions
Why should you renovate your home?
Renovating your property isn't just an easy way to increase its value - it also improves the quality of your life. Many people renovate their homes for aesthetic reasons because they want to change the look or feel of their property. Others renovate because they want to improve their homes and make them more functional and practical, and other people renovate for safety reasons because they want to make their home energy-efficient or more comfortable as they advance in age.
How often should you renovate your home?
What are the benefits of renovating?
How long does a renovation typically take?
Is it cheaper to renovate or to build new?

To all the staff at Braendel Painting, Mark and I would like to extend a special thank you for your assistance in painting the inside rooms of our new home and with the assistance with tiling the kitchen and tolerating Dutchess, our great dane, during their lunch hour. In addition, we would like to express our appreciation for the dedication and professionalism of your company. Your friendly staff worked very hard on this project and we would like them to know it did not go unnoticed. Our home is BEAUTIFUL, more than we could have imagined. If you need our assistance for a reference, please do not hesitate to ask. Once again, thank you for helping us make our dreams come true.
Peggy & Mark Grandin
We couldn't be any more pleased with the professional services Braendel's provided. They tackled a major tiled shower remodel/expansion and did so with the utmost care and precision. They also painted our basement ceiling and outside stucco. We are so thrilled with their services that we are planning a deck remodel.
Karen White
When I needed remodeling done to my funeral home I called Braendel Painting & Services. I was very pleased with their rapid response time. Not only were they able to take care of my painting needs but also they were able to handle my wallpapering, remodeling, carpeting and carpentry work. They are definitely a "one call does it all" company. I was 100 percent satisfied with their work and professional attitude; their service was second to none and they even had non-smoking crews. They worked around my busy schedule – working at night and during off hours – alleviating any disruption to the funeral home and patrons. They are truly a "service" oriented company which should carry them well into the new millennium.
Mike Orlando
The staff and service personnel at Braendel's are one of the best I have ever experienced. They are very thorough when it comes to the work performed as well as cleaning up afterward. The prices for the service are very competitive as well.
Robert H.
We have used Braendel Painting & Services many times. The work was always completed professionally and in a timely manner. The on-site employees were quality craftsmen and a pleasure to work with.
Bill Correll
I can say we have been very pleased with their work. Their crews were extremely professional and we were impressed with the quality of the jobs they did.
Tim Jares
I want to thank everyone from Dennis Sr., and Jr. all the way down the line, including Carolyn and Ashley for a job well done!! Everyone has been so courteous and patient. It's hard to have work done when you're 500 miles away but Ben kept me updated on progress and sent pics which I'm so grateful for!! The bathrooms are gorgeous, the paint looks beautiful. There were a couple minor issues which you guys addressed right away and corrected to my satisfaction (no small thing!)
All in all, kudos! Braendel will be our go-to contractor for all the work we want done down the road.
THANK YOU, THANK YOU, THANK YOU!!!
Deb
Braendel's workmanship is phenomenal. Everything they said that they would do was completed in a timely fashion and we would like to recommend their services to anyone and everyone.
Harry Moore
It has been my experience that Braendel Painting performs the highest quality of painting and renovation work and at all times conscientiously serves their customers. Their courteous and expeditious services are unparalleled.
Stan Berlin
Dear Denny, Just a note to tell you how pleased we are with the work your crew did at the house at 2918 Euclid Blvd. We wanted to have it "spruced up" for our daughter and they made it a showplace! From the moment we met you at the estimate, I felt like a weight had been lifted from our shoulders; I know we were in good hands. Your workers were knowledgeable, helpful and pleasant. We appreciate all their hard labor, and we were happy that they could do everything in such a timely manner. I'm sure our daughter will be surprised and thrilled with her new home! It's no wonder that you are voted #1 year after year. You will certainly be our choice for any other home improvement projects. Thank You Again, Mike & Marilyn.
Mike & Marilyn Simmons
Start Your Project Today!